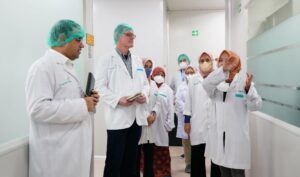 Bandung (Memorilive.Com) – Bio Farma, Induk Holding BUMN Farmasi menerima Technical Visit dari MSD (Merck Sharp Dohme, salah satu perusahaan farmasi terbesar dari USA) pada 10-11 Mei 2023 di Kantor Pusat Bio Farma Jalan Pasteur Bandung. Bio Farma akan segera menambah milestone baru bersama MSD yaitu memproduksi lokal vaksin HPV, pencegah kanker serviks.
Technical Visit dari MSD diterima langsung oleh Direktur Utama Bio Farma Honesti Basyir, dihadiri Ravi Sangam, Director of Strategic Alliance Asia Pacific Nancy Schaffner, Director of Engineering Siyan Zhang, Director Chief of Staff Joris den Ouden, Associate Director Device and Packaging Technology  dan Charles Lachman, Associate Principal Scientist.
Hadir juga dari MSD Indonesia, George Stylianou. Managing Director Farida Malawi. Business Unit Director Dudit Triyanto. External Affairs Director dan Pri Hartanto, Finance Director. Direktur Utama Bio Farma, Honesti Basyir dalam pertemuan dengan MSD menyampaikan ungkapan terima kasih atas kemitraan yang telah terjalin sejak tahun 2016 lalu.
Technical Visit dari MSD ini juga, merupakan tindak lanjut dari penandatangan perjanjian kerjasama transfer teknologi untuk memproduksi secara lokal vaksin 4-valent human papillomavirus (HPV) yang telah dilakukan pada 13 Desember 2022, disaksikan langsung oleh Menteri Kesehatan Republik Indonesia, Budi Gunadi Sadikin dan Wakil Menteri 1 BUMN, Pahala Nugraha Mansury. Technical Visit yang dilaksanakan selama dua hari ini dalam rangka meninjau kesiapan Bio Farma memproduksi portofolio produk terbarunya, vaksin HPV.
"Saya ucapkan terima kasih, karena ini adalah komitmen bagi kita semua dalam berkolaborasi secara progresif, untuk meningkatkan kualitas kesehatan masa depan Indonesia dan Global," kata Honesti.
Honesti mengungkapkan dirinya sangat senang atas kolaborasi antara MSD dan Bio Farma dalam memproduksi Vaksin HPV.  "Pada pertemuan ini, semoga kita dapat berdiskusi secara maksimal untuk dapat meningkatkan fasilitas yang telah kita rencanakan, yaitu fasilitas baru untuk memproduksi vaksin HPV.
"Satu hal yang saya ingin diskusikan bagaimana kita bersama – sama menggunakan kesempatan. Kata kunci yang penting adalah 3A, yaitu Accelerate, Accelerate, dan Accelerate," papar Honesti.
George Stylianou, Managing Director MSD Indonesia mengungkapkan, dirinya beserta tim dari MSD sangat bersemangat untuk berkolaborasi dengan Bio Farma, menunjukan komitmen bagi masa depan kesehatan Global.
"Ini adalah suatu kehormatan, yang sangat besar bagi kami, dapat berkolaborasi dengan Bio Farma. Oleh karena itu, kita duduk di sini melalui transformasi besar bersama memulai sebuah program, untuk mencapai tujuan yang sangat luar biasa".
Pada kesempatan ini, saya sangat bersemangat dan senang dapat bergabung. Project HPV ini merupakan awal dari project lain yang dapat diwujudkan antara MSD dan Bio Farma, sehingga dapat menunjukan komitmen dalam meningkatkan masa depan, kesehatan yang lebih baik, ungkap George.
Bio Farma akan segera menambah milestone baru bersama MSD, yaitu memproduksi lokal vaksin HPV. Dengan diproduksinya vaksin HPV secara local, maka aksesibilitas dan afordabilitas vaksin HPV, akan semakin terjangkau.
Hal ini seiring dengan semangat Bio Farma sebagai BUMN yang berkomitmen, untuk meningkatkan ketahanan Kesehatan nasional. Produksi lokal vaksin HPV berpotensi akan meningkatkan kemampuan dalam kapasitas produksi vaksin, dalam negeri di Indonesia.
Sebelumnya Bio Farma baru saja meluncurkan alat diagnostik dengan nama Cerviscan untuk deteksi dini Human Papillomavirus (HPV) yang merupakan penyebab kanker serviks.
Berdasarkan data 2022 dari World Health Organization (WHO), kanker serviks menempati urutan kedua dengan jumlah 36.633 kasus, 9,2% dari total kasus kanker setelah kanker payudara, menempati urutan pertama.
Bio Farma akan terus berupaya untuk menekan kejadian kanker serviks melalui peningkatan akses terhadap vaksin HPV dan mendorong kesadaran para wanita untuk melakukan deteksi dini yang dapat membantu menurunkan angka kematian akibat kanker serviks.
Bio Farma melakukan berbagai prosedur pengawasan mutu (QC), menjamin mutu produk (Quality Assurance) secara konsisten dan berkesinambungan. Prosedur pengawasan dan jaminan mutu dipantau dengan ketat secara terus menerus oleh National Regulatory Authority (NRA) yang diakui WHO, atau di Indonesia dikenal sebagai Badan Pengawasan Obat dan Makanan (BPOM).
Selain Vaksin, Bio Farma juga terus berinovasi dalam meningkatkan kualitas kesehatan Indonesia dengan menciptakan berbagai produk diagnostik salah satunya yaitu CerviScan. CerviScan merupakan diagnostik kit berbasis PCR untuk deteksi dini terhadap Human Papillomavirus (HPV) yang merupakan penyebab kanker serviks. Sumber Humas Bio Farma (Edi).